Biography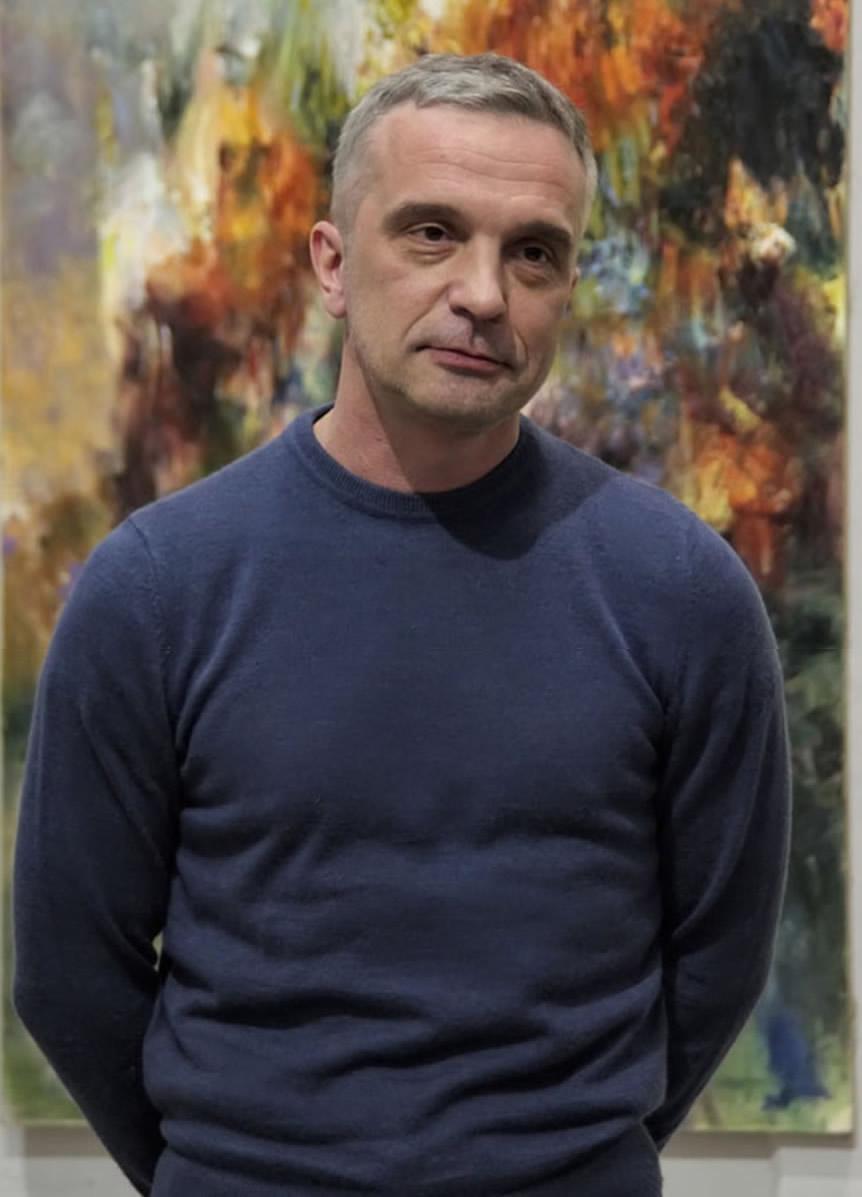 Born in 1968 in Saint Petersburg, Russia, this young master has emerged as one of the most important artists of his time. Trained first at the district art school before entering the Repin Institute, Blokhin attained a solid academic foundation in art which can be traced, admired and interpreted today in some of Russia's famous masters from the turn of the 20th century. While cultivating ideals realised by many of his predecessors in Russian art theory, Blokhins' search towards a traditional expressive language consumed him in his early academic years. It was not until he entered the Academy of Arts that he began to search the canons of those who broke with tradition and shook up thematic artistic views, that he found his own distinct style. His ability has not gone unnoticed including the Grand Prize at the American Society of Portrait Artists 2002 competition at New York's Metropolitan Museum of Art and Grand Prize from the Portrait Society of America, Boston, in 2004.
"Nikolai Blokhin's numerous exhibitions around the world, his commercial success, his critical acclaim, and his many awards combined with his prestigious position as Professor of Drawing at the Saint-Petersburg Academy of Arts are all contributors in making his name famous in the art world."
B. Eric Rhoads Chairman / Streamline Publishing Inc., Publisher / Editor-in-Chief Fine Art Connoisseur and Plein Art Magazines
Education:– 1980-1982 – Art School for gifted children – 1982-1985 – St. Petersburg Middle Art School – 1989-1995 – St. Petersburg Academy of Art – 1995-2000 – Postgraduate studies of the Easel Painting studio under guidance of member of Academy, Professor Reihet – 1995-2000 – Teacher of drawing in St.Petersburg Academy of Art – 2000-2016 – Professor of drawing in St.Petersburg Academy of Art
---
Museum Collections:
Russia, St. Petersburg "State Russian Museum of Arts"
Russia, St. Petersburg "Museum of Theater"
Russia, St. Peterburg, The Russian Academy of Fine Arts Museum
Russia, Moscow, Politechnical Museum
Russia, Kazan, The State Museum of Fine Arts of the Republic of Tatarstan
Russia, Saratov, The Radischev State Museum of Fine Arts in Saratov
Russia, Voronezh, The Kramskoy Regional Museum of Fine Arts in Voronezh
Russia, Samara, The Samara Regional Museum of Fine Arts
Russia, Ekaterinburg, The Ekaterinburg Museum of Fine Arts
USA, Taos, Taos Art Museum & Fechin House
USA, Jersey City, Museum of Contemporary Russian Art
China, Beijing, Beijing Contemporary Art Museum
China, Beijing, Chinese National Gallery of Modern Ar
Czech Republic, Prague, National Gallery in Prague
Finland, Helsinki, Finnish National Gallery
Gallery and Private Collections:
Russia, Moscow "Parliament Center"
Russia, Russian Company "Gazprom"
China, Shenyang, Art Gallery of Lu Xun Academy of Fine Arts
Netherlands, "Prince of Orange Collection"
Belgium, "European Parliament"
USA, "Finley Collection"
USA, San Francisco, "Richard Thomas Galleries"
USA, Chicago "Hilligoss Galleries"
USA, Park City "Richard Thomas Galleries"
USA, Carmel "Richard Thomas Galleries"
USA, The Award-Winning Studio of Long Grove Galleries
USA, Laguna Beach "Forest Gallery"
USA, Vail,"Fine Art Gallery"
USA, Santa Fee,"The Downey Gallery"
USA, Gearge and Sherry Demier
USA, Dr. Carl Fieser and Dr. Merele Fieser
USA, Gordon and Jeanne Van Amburgh
USA, Anthony Quinn – Academy Award winning
USA, Suzanne Somers – Movie star
Russia, Maria Sittel – Television host
Russia, Sergei Krikalev – Astronaut
Russia, Nikolai Burov – General Director of Museum complex of Saint Isaac's Cathedral
Russia, Mikhail Piotrovsky – General Director of the State Hermitage Museum in St. Petersburg
Many other works are found globally in private collections.
40 International Personal Exhibitions.
1989 – USSR, Leningrad "Young Artist of Leningrad"
1989 – Finland, Turku "Varission Kirjasto"
1990 – USSR, Moscow "Young Artists of the USSR"
1991 – Poland, Warsaw "Young Artists"
1991 – USSR, Moscow " Young Artists of Leningrad"
1991 – Indonesia, Jakarta The first Soviet-Indonesian Art Exhibition
1992 – Russia, St. Petersburg "Personal Exhibition at the Cinema Center"
1992 – France, Paris, ARCOLE
1993 – Italy, Rome "Modern Art of St. Petersburg"
1993 – Russia, St. Petersburg "Forum" Gallery
1993 – England, London "Cultural Days of St. Petersburg"
1994 – Germany, Hamburg " Days of Russian Culture"
1995 – Russia, St.Petersburg "Museum of the Russian Academy of Art"
1995 – Russia, Moscow "Exhibit of postgraduate Artists from Moscow and St. Petersburg"
1995 – USA, Chattanooga Tennessee "Expressions from Russia"
1996 – Netherlands, Hague "Master Classes"
1997 – Belgium, "Autumn of the Artist Union, St. Petersburg"
1997 – Finland, Solo "Master Classes"
1998 – China, Shanghai "St. Petersburg Artist's Exhibition"
1998 – France, Marseilles "Christmas Exhibition from St.Petersburg Academy of Art"
1999 – USA, LasVegas "Art Expo-1999"
1999 – USA, Carmel "Personal Exhibition"
2000 – USA, New York "Art Expo-2000"
2000 – USA, San Francisco "Art Expo-2000"
2000 – USA, San Francisco "Richard Thomas Galleries"
2001 – USA, Palm Springs "International Art Fair"
2001 – USA, San Francisco "Art Expo-2001"
2001 – USA, Chicago, Personal Exhibition "Hilligoss Galleries"
2001 – USA, Park City "Cultural Program of the 2002 Winter Olympics"
2002 – USA, Palm Springs "International Art Fair"
2002 – USA, New York City "Portrait Competition of the American Society of Portrait Artists(ASOPA)
2002 – USA, Chicago,Personal Exhibition "Hilligoss Galleries"
2003 – USA, Las Vegas, "Galleria di Sorrento"
2003 – USA, Carmel, "Classic Art Gallery"
2003 – USA, Palm Springs, "International Art Fair"
2003 – USA, San Francisco, General Consulate of the Russian Federation "Personal Exhibition"
2004 – USA, Palm Springs, "International Art Fair"
2004 – USA,Carmel,"Classic Art Gallery"-Personal Exhibition
2004 – USA, San Jose,California "Personal Exhibition"
2005 – USA,Santa Fe,"The Downey Gallery"-Personal Exhibition
2005 – USA,Chicago, "Hilligoss Galleries"-Personal Exhibition
2006 – Russia, St. Petersburg, "Central Exhibition Hall of the Artists Union of St. Petersburg – Personal Exhibition
2006 – Russia, Moscow, The Polytechnical Museum – Personal Exhibition
2007 – Russia, Moscow International Art Salon in the Central House of the Artist
2007 – USA, Carmel, "Classic Art Gallery" – Personal Exhibition
2007 – USA, Santa Fe, "The Downey Gallery" – Personal Exhibition
2007 – USA, Chicago, "Hilligoss Galleries" – Personal Exhibition
2007 – USA, Las Vegas, "Las Vegas Art Expo 2007"
2008 – USA, Taos, Taos Art Museum & Fechin House – Personal Exhibition
2008 – USA, Santa Fe, "The Downey Gallery" – Personal Exhibition
2008 – USA, Laguna Beach "Forest Gallery" – Personal Exhibition
2009 – USA, Chicago, "Hilligoss Galleries" – Personal Exhibition
2009 – USA, Palm Desert, "Classic Art Gallery" – Personal Exhibition
2009 – USA, San Francisco, General Consulate of the Russian Federation – Personal Exhibition
2010 – Russia, St. Petersburg, Central Exposition Halls of The State Museum of The Russian Academy of Arts – Personal Exhibition
2010 – Russia, Nizhny Novgorod, Nizhny Novgorod State Exhibition Hall – Personal Exhibition
2010 – Monaco, Monte-Carlo, "Art Monaco 2010"
2010 – Russia, Kazan, The State Museum of Fine Arts of the Republic of Tatarstan – Personal Exhibition
2010 – Russia, Moscow, Central House of the Artist – Personal Exhibition
2010 – Russia, Voronezh, The Kramskoy Regional Museum of Fine Arts – Personal Exhibition
2010 – Russia, Saratov, The Radischev Museum of Fine Arts – Personal Exhibition
2010 – USA, Palm Desert, "Classic Art Gallery" – Personal Exhibition
2011 – USA, Chicago, "Hilligoss Galleries" – Personal Exhibition
2011 – Russia, Samara, Gallery "Babilon" – Personal Exhibition
2011 – Russia, Ekaterinburg, The Ekaterinburg Museum of Fine Arts – Personal Exhibition
2012 – Russia, Moscow, Exposition Hall of Federation Council of Russia – Personal Exhibition
2012 – USA, Los Angeles, Los Angeles Fine Art Show
2012 – USA, Aspen, E. S. Lawrence Gallery- Personal Exhibition
2012 – USA, Palm Desert, "Classic Art Gallery" – Personal Exhibition
2012 – USA, Chicago, "Hilligoss Galleries" – Personal Exhibition
2013 – USA, Chicago, International Antiques & Art Fair
2013 – USA, Chicago, "Hilligoss Galleries" – Personal Exhibition
2014 – USA, Carmel-by-the-sea, "Classic Art Gallery" – Personal Exhibition
2014 – China, Shanghai, Shanghai Institute of Visual Arts SIVA
2015 – China, Shanghai, Quan Shanshi Shanghai Art Center
2015 – USA, Las Vegas, "Arte Fino Gallery" – Personal Exhibition
2015 – USA, Laguna Beach, "Elena Fine Art Gallery" – Personal Exhibition
2016 – USA, Indiana Wells, Indiana Wells International Art Show
2016 – USA, New York, New York Art Show
2016 – Taiwan, Taipei, Art Taipei
2017 – USA, Laguna Beach, "Elena Fine Art Gallery" – Personal Exhibition
2017 – USA, Las Vegas, "Arte Fino Gallery" – Personal Exhibition
2017 – USA, San Diego, "Agora Gallery" – Personal Exhibition
2018 – USA, Carmel-by-the-sea, "Classic Art Gallery" – Personal Exhibition
2018 – USA, San Diego, "Agora Gallery" – Personal Exhibition
2019 – USA, Carmel-by-the-sea, "Classic Art Gallery" – Personal Exhibition
2019 – USA, San Diego, "Agora Gallery" – Personal Exhibition
2019 – USA, San Diego, "Art San Diego"- Contemporary Art Show